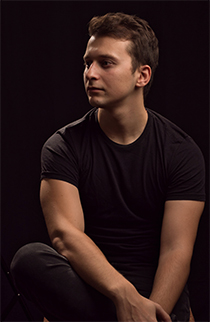 STEPAN SOBANOV  –  arranger
Stepan Sobanov is an Austrian-Russian composer, arranger and music producer. 
He studied composition and music theory at the University of Music and Performing Arts Vienna in 2015-2017, as well as media composition and applied music there in 2017-2022 (Mag. art.).
The video game Tilt Pack (Nintendo Switch), for which he composed and produced music, won the German Computer Game Award in the category "Best Family Game" in 2020.
For the image film Vienna is like… (2020; Vienna Tourism), for which Sobanov composed and arranged music, has been viewed over 12 million times on YouTube and is regularly shown on the flights of Austrian Airlines.
In 2018 Stepan Sobanov won the Univision Songcontest with his song Those Memories (sung by Marcharie). He was a finalist at the Vienna Film Music Award 2020 with his scoring of the "Caviar" film sequence by Elena Tikhonova.