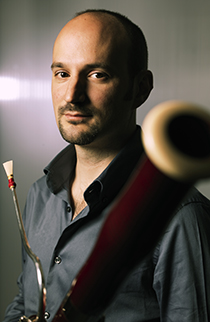 BENEDIKT DINKHAUSER  –  bassoon
joined the Vienna State Opera Orchestra in 2002 and became member of the Vienna Phiharmonic Orchestra in 2005. 
Born in Innsbruck, he grew up in Wels, where in early years he started his musical education
on the piano. At the age of 14 he developed a passion for the bassoon, which led him to move to Vienna to attend the music grammar school and start his studies at the Konservatorium Wien with Prof. Michael Werba at the age of 16. During the time of grammar
school he joined several renowned youth orchestras (a.o. Jeunesse Orchestra Vienna, Attersee Institute Orchestra) and won the first prize in the nationwide competition "Prima la Musica" in 1997. 
Besides attending masterclasses with Richard Galler, Gustavo Nunez and Pascal Gallois he continued his studies at the University for Music and Performing Arts Vienna with Prof. Stepan Turnovsky in 2001. 
Solistic performances with orchestra and recitals are an important part of his musical life as well as chamber music in ensembles like his Duo with the guitarist Zsófia Boros, inPHILtrio with his philharmonic colleagues Clemens Horak (ob.) and Matthias Schorn (cl.), freihaus4tel quartett (2 clarinettes, bassoon and double bass), moving chamber music (guitar, percussive tap, bassoon, doublebass), and others.
Benedikt Dinkhauser held masterclasses at the Juilliard School and the Manhattan School of Music in New York and at the Toho University Vienna – Tokyo. He always directs special attention to mental training in preparation for an important musical event (e.g. audition).