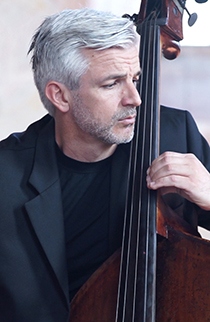 Božo Paradžik, double bass. Born in Zagreb, Božo Paradžik received his first lessons at the age of 13. Already before graduating from the Prague Music Academy he was offered his first position as solo double bass player at the Residentie Orchester, Den Haag, in 1991. He later joined the Radio Symphony Orchestra Stuttgart.
Božo Paradžik is first and foremost known for his solo work. At the age of 16 he made his first recordings for the then Yugoslav broadcasting association. Between 1996 and 2001 Paradžik recorded a series of CDs for the SWR. He achieved worldwide fame with his solo CD for the EMI label, the only CD ever to have been recorded with works for solo double bass.
As a soloist Božo Paradžik has appeared with many orchestras and chamber music partners in the musical centres of Germany, Great Britain, France, the Netherlands, Poland, the Czech Republic and the entire "ex-Yugoslavia". His artistic achievements have been honoured highly, thus Paradžik is the recipient of the rarely awarded Generation Prize of the Prague Music Academy and "Orlando", a prize conferred by the Croatian Radio and Broadcasting Association for the most outstanding appearance at the international summer festival in Dubrovnik in 2002.