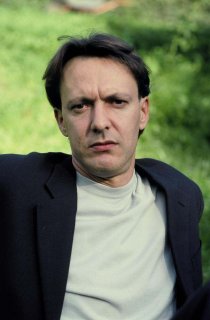 Eric Schneider, piano. His playing is poetry – nuanced in tone, many facetted in gesture, clear in expression. Eric Schneider enjoys a firstclass reputation as a lied pianist and performs world wide with the renowned singers of his generation. The fusion of music and text fascinated him early on, as the added, concrete dimension of content expanded his skill at the piano.
Originating in the Bergische Land near Cologne, Eric Schneider studied piano and mathematics. At 22 he passed his piano solo concert examination with distinction. In order to refine his performance, he decided – after his first competition prizes and solo concerts – to pursue post graduate studies in the lied genre with Hartmut Höll. His career also received seminal impulses from the pianists Paul Badura Skoda and Alfred Brendel as well as the singers Elisabeth Schwarzkopf and Dietrich Fischer Dieskau, and he supplemented his development as a pianist with a course in orchestral direction under Rolf Reuter in Berlin.
For many years Eric Schneider has worked intensively with singers like Christine Schäfer, Matthias Goerne, Christiane Oelze and Stephan Genz. Joint lied performances have provided musical high points in the concert centres of Europe, America and Asia. Schneider and his partners are also regular guests at distinguished festivals such as the Schubertiade in Schwarzenberg, the Salzburg Festival and the Tanglewood Summer Music Festival. Numerous CD productions document his exceptional standing as a lied pianist. In addition to highly praised recordings with Christiane Oelze  and Matthias Goerne, Franz Schubert's "Winterreise" and songs by Henry Purcell and George Crumb appeared in 2006, both with the soprano Christine Schäfer.
For some time Eric Schneider has turned back to solo literature and recently gave impressive recitals at the Festspielhaus Baden Baden and the Kissinger Sommer Festival. Beyond this he has distinguished himself in various chamber ensembles. In addition to his concert appearances Schneider is a sought after teacher who works with pianists and singers both privately and at various conservatories.