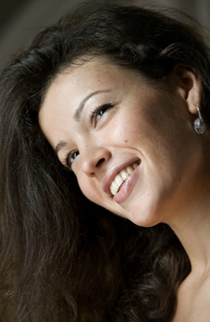 Ksenija Sidorova, accordion, was born in Latvia in 1988. She started playing accordion in her home town of Riga under the guidance of Marija Gasele at Riga 1st music school. Since 2005 she has been studying as an undergraduate at the Royal Academy of Music in London, with Professor Owen Murray. In July 2009 Sidorova obtained a BMus Diploma, receiving the Lady Theodore Holland Prize for the 2nd Highest BMus Graduand and Council of Honour Prize for a highly original contribution to the development and evolution of music.
Sidorova is a winner of international competitions in Latvia, Lithuania, Russia and Italy. Recent engagements include a performance with the Latvian National Symphony Orchestra, a recital at the Colston Hall (Bristol), a performance at Spitalfields Festival and the DMCE symposium (Dramaturgie Musicale Conteporaine en Europe, Paris, France). In June 2009 she was invited by Dame Felicity Lott to appear in her Carte Blanche in the programme Un Mardi idéal on Radio France Musique.
Sidorova is a supporter and interpreter of contemporary music. In 2008 she gave the world premiere of Who's the Puppet?, dedicated to her by Artem Vassiliev and the British premiere of Air by Hans Abrahamsen, and also played a series of new pieces at workshops at the Institute of Music Research. Sidorova has worked with such composers as Stefano Gervasoni, Nirmali Fenn, Samantha Fernando, Carlos Duque, Elspeth Brooke and Patrick Nunn.
In February 2009 Sidorova won the Friends of the Royal Academy of Music Wigmore Award, which led to her Wigmore Hall debut on May 18, 2009. She has also won the Worshipful Company of Musicians' Maisie Lewis Award, Philharmonia Orchestra Martin Musical Scholarship Fund Award, has been awarded a Recommended Artist under Making Music's Philip & Dorothy Green Award scheme for 2009 and has been selected to appear in the Park Lane Group Young Artists New Year Series 2010.
Sidorova collaborates with the Brooks String Quartet, with whom she has been a finalist in both the 2008 Royal Academy of Music Club Prize and the Royal Overseas League in March 2009, where they have also received the Elias Fawcett Award for outstanding ensemble.