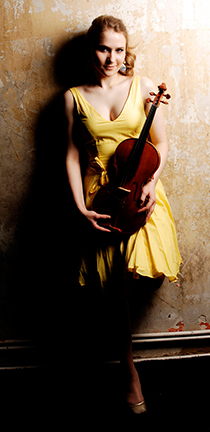 Rosalind Ventris, viola. British violist Rosalind Ventris performs as a soloist and chamber musician throughout the UK and abroad. Her 2012/2013 appearances included solo recitals at the Wigmore Hall, Het Concertgebouw, the Slovak Philharmonic, St Martin in the Fields, and Aldeburgh Festival. In 2013/2014 she will perform at the Wigmore Hall, St George's Bristol, St David's Hall Cardiff, and concert halls in Austria and Switzerland. Rosalind was a prize-winner at the Lionel Tertis International Viola Competition in 2006 (aged 17) and 2013, winning five prizes including Yuri Bashmet's President's Prize at the most recent competition. She made her concerto debut at St John's Smith Square in 2007, and has since frequently appeared as a concerto soloist, including Mozart's Sinfonia Concertante with Tasmin Little and the EUCO. Rosalind has given a number of world premieres, in particular by British composer Edwin Roxburgh (in 2011: "Monologue" for solo viola (Royal Festival Hall, London), and the "Sonata for Viola and Piano" (Purcell Room, London), in 2012: "Ricercare" with pianist Lara Dodds-Eden at their Kirckman Concert Society recital at the Wigmore Hall).
A keen chamber musician, Rosalind has played with ensembles such as the Dante and Endellion String Quartets, and taken part in the Open Chamber Music Sessions at Prussia Cove. Last summer Rosalind appeared at the Salzburg Festival in the IMS Prussia Cove 40th Anniversary Celebrations/Sándor Végh Centenary, in a group led by Gerhard Schultz of the Alban Berg String Quartet, and she has been invited to play in the IMS Prussia Cove Tour this year. Rosalind is a member of Trio Anima with Anneke Hodnett (harp) and Matthew Featherstone (flute – principal of BBC National Orchestra of Wales).
Rosalind studied with David Takeno alongside reading Music at Corpus Christi College, Cambridge, and later at the Guildhall School of Music & Drama as a postgraduate and Fellow. At Cambridge she won all the available prizes for musical performance including the Nigel Brown Prize (2008), and at the Guildhall she won the school's Mac and Peggy Morgan Award (2010). During her studies and Fellowship at the Guildhall she received awards from the Hattori Foundation, Countess of Munster Trust, and Martin Musical Scholarship Fund. Rosalind received an English Speaking Union scholarship to study at the Banff Centre last summer.