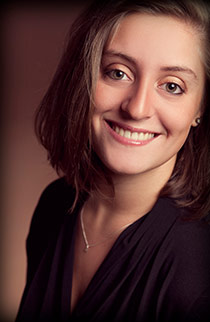 Stella Farina, harp. Stella Farina began playing the harp at age 4 under the guidance of Gabriella Bosio at the prestigious Suzuki Talent Centre of Turin. She graduated from the State Conservatory "G.Verdi" of her hometown at age 17.
Scholarships from the "Fondazione CRT" and the "Associazione de Sono" allowed her to complete her studies abroad.
She earned the "Konzertdiplom" from the Zürcher Hochchschule der Künste in 2007 (class of Catherine Michel) and the "Meisterklassediplom" from the Musikhochschule München in 2009 (class of Cristina Bianchi).
A passionate chamber musician, she concluded her studies in 2010 with a "Kammermusik Meisterklassediplom" (classes of A. Adorjan, H. Schlichtig).
She has cooperated with numerous orchestras such as the Orchestra Sinfonica Nazionale della RAI di Torino, Orchestra del Teatro alla Scala di Milano, Orchestra Filarmonica della Scala, Symphonieorchester des Bayerischen Rundfunks, Munich, Symphonieorchester des Hessischen Rundfunks, Frankfurt, Deutsche Radio Philharmonie Saabrücken Kaiserslautern, Mahler Chamber Orchestra, Guerzenich Orchester, Cologne, Orchester der Oper, Zurich, Orchestre Philharmonique de Monte-Carlo, Orchestra Filarmonica del Teatro Regio di Torino, Orchestra Sinfonica di Milano "Giuseppe Verdi".
As soloist and chamber musician she appeared with the Chamber music ensemble of the Deutsche Radio Philharmonie Saarbrücken Kaiserslautern, Chamber music ensemble of the Tiroler Symphonieorchester Innsbruck, Georgisches Kammerorchester Ingolstadt and Philharmonic Orchestra of Bacau (Romania).
She has participated in masterclasses with Luisa Prandina, Fabrice Pierre, Mara Galassi, Alice Giles, M.C. Jamet, Letizia Belmondo, Elizabeth Fontan-Binoche, Xavier de Maistre, David Watkins, Frédérique Cambreling, and Michel Mikalakakos.