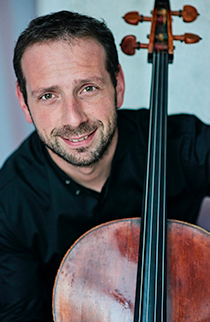 Boris Andrianov, a renowned Russian cellist, performs in the world's top venues and at most prestigious festivals. While having an extensive touring schedule, the artist is also keen on performing in Russia, whether in big cities, small towns or remote villages that had never seen any concerts at all. He has also participated in many international and national projects aimed at expanding the country's musical landscapes, especially in Russian provinces. Invariably enjoying great success with the public, those projects bring together internationally renowned performers along with Boris Andrianov himself.
Boris Andrianov was born in Moscow in 1976. He studied at the Gnessin Moscow Special School of Music (class of Vera Birina), Moscow State Tchaikovsky Conservatory (class of Professor Natalia Shakhovskaya) and Hochschule für Musik Hanns Eisler Berlin (class of Professor David Geringas).
He was the winner of Antonio Janigro International Cello Competition in Zagreb as well as competitions in Johannesburg, Hanover (Classica Nova – In Memoriam Dmitri Shostakovich, as part of a duo with Alexey Goribol), Paris (Concours de violoncelle Rostropovitch), and South Korea (Isang Yun Competition). He was also a prize-winner at the 11th International Tchaikovsky Competition and the Triumph Youth Award, and was titled Honored Artist of Russia in 2016.
Boris Andrianov has performed with the world's leading orchestras and conductors, including Valery Gergiev, Vladimir Fedoseev, Yury Simonov, Pavel Kogan, Krzysztof Penderecki, Alexander Vedernikov, Gianandrea Noseda, Dmitry Liss, Roman Kofman, Vasily Petrenko, Stefan Vladar, Dmitri Jurowski, and Alexander Sladkovsky. In chamber performances, he has played alongside Yury Bashmet, Menahem Pressler, Akiko Suwanai, Janine Jansen, Julian Rachlin, Itamar Golan, Denis Matsuev, Sergey Nakaryakov, Vadim Repin, Maxim Vengerov, Alexey Lyubimov, Tatiana Grindenko, to name a few.
The musician has participated in the Royal Swedish Festival, as well as festivals in Ludwigsburg, Schleswig-Holstein, Edinburgh, Dubrovnik, Colmar, Davos, Irkutsk (Stars on Baikal), Trans-Siberian Art Festival and others. He is also a regular guest of the Homecoming Chamber Music Festival in Moscow.
Boris Andrianov heads The Generation of Stars, a nation-wide project that has been awarded the Prize for culture of the Government of Russia (2009). He also initiated Vivacello and Vivarte international festivals in Moscow and has been artistic director for both. In addition, he is the artistic director of Musical Expedition festival, that was founded in the Vladimir region and has been expanding every year. In 2021, the festival covered six Russian regions, including Udmurtia, Vologda and Novosibirsk regions, Crimea and Kamchatka.
Widely collaborating with contemporary composers, Boris Andrianov has repeatedly presented premieres of new works, including those by Giya Kancheli, Krzysztof Penderecki, Efrem Podgaits, Michael Berkeley, Richard Dubugnon, Alexander Rosenblatt, Giovanni Sollima, Vangelis, Alexey Rybnikov, Pavel Karmanov, Samuel Strouk, Alexey Shor and others.
The artist's discography includes a joint recording with guitarist Dmitry Illarionov, released by Delos (in 2003 the record was included in the long list of Grammy nominees in Chamber Ensemble category); Sonatas by Shostakovich and Rachmaninoff with pianist Rem Urasin (named the best chamber disc of the month by Gramophone in September 2007), and sonatas for viola da gamba and harpsichord by J. S. Bach transcribed for cello and button accordion, recorded with Yuri Medianik (released by Melodiya, 2015). In 2020–2021 he recorded Variations on Rococo Theme by Tchaikovsky with the State Orchestra of the Republic of Tatarstan under Alexander Sladkovsky (Sony Classics), Gabriel Prokofiev's Cello Concerto with the Ural Philharmonic Orchestra under Alexey Bogorad (world premiere of the recording) as well as the Jazz Reflections of Bach Suites with Leonid and Niсk Vintskevich, as well as all cello suites by J.S. Bach (the release is scheduled for 2022).
Since 2009 Boris Andrianov has been teaching at the Moscow Conservatory. The artist plays a cello made by Carlo Bergonzi from the State Collection of Unique Musical Instruments.